Unforgettable Experiences in an Extraordinary Place
The Gardens of Mission San Luis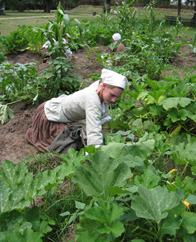 Our spring gardens are in full swing at Mission San Luis! In the Spanish Field Crop, we have several different Old World vegetables as well as a few New World foods that the Spanish adopted. We are finishing up our winter crop of broccoli, kale, spinach, radishes, cabbages, onions, cauliflower, lettuce, chard, carrots, turnips, and rutabagas. We have also planted our spring crop of peas, tomatoes, peppers, cucumbers, amaranth, and eggplant. Medicinal and culinary herbs will continue to grow in the Spanish House Herb Garden as well as at the Friar's Apothecary Garden. Our Apalachee Field Crop has been cleared of its mustard greens and winter squash and is ready once again for producing the harvests of corn, beans, and summer squash.
All of the produce that we grow at Mission San Luis is part of our Historic Foodways Program and we use it in cooking demonstrations. We also display and interpret many of the herbs in our Convento infirmary in their medicinal context.
To learn more about our gardens and foodways programs, please join us in our upcoming events.
We will be offering guided gardens tours on the third Sunday of each month starting at 10am.
Ongoing cooking demonstrations are at the Spanish House, weather permitting.
Our cooking workshop Saint Martha's Hearth is typically held every third Saturday of the month. Space is limited, so sign up early!
To volunteer in the gardens please contact Alison Abernathy at Alison.Abernathy@dos.myflorida.com.