Unforgettable Experiences in an Extraordinary Place
First Saturdays
Historical Happenings
From 10:30 to 11:30 a.m. on the First Saturday of the month, learn more about history, archaeology, Mission San Luis, and other topics of interest. Presentations are free with site admission.
June 7, 2014—El Camino Real ~ Presented by Bob Hurst

Today, travel within Florida has been simplified thanks to interstates, the turnpike, and numerous state and county roads. In 17th century Florida, Spanish settlements existed in St. Augustine and Pensacola with mission towns like San Luis scattered in between. For travel and communication within Florida, the Spanish carved a crude trail from the north Florida wilderness. This trail was thought to be long gone, lost to forest growth and development. Please join Bob Hurst as he pinpoints, using photographic evidence and maps, the location of the Florida's El Camino Real, or King's Road.
Colonial Crafts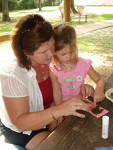 From Noon to 2:00 p.m. on the First Saturday of the month, children are invited to participate in making crafts that they can then take home. Colonial Crafts is free with admission.
June 7, 2014—Shell Necklaces
Knit-a-Thon Patterns
For those who were unable to attend Mission San Luis' 1st Annual Knit-a-Thon, or did attend and would copies of the hat patterns that were used, please click on the links below. If you have questions concerning the patterns or Mission San Luis' Living History costume department, please feel free to contact us at (850) 245-6406.
If you have any questions, please call 850.245.6406 for more information.