Unforgettable Experiences in an Extraordinary Place
First Saturdays
Historical Happenings
Learn more about regional topics including history, archaeology, and, of course, Mission San Luis during this monthly lecture series held the first Saturday of the month. Historical Happenings presentations are free with a site membership. The lectures are free with paid admission to all other attendees.
October 5—No Historical Happenings lecture
Colonial Crafts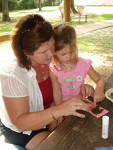 From Noon to 2:00 p.m. on the First Saturday of the month, children are invited to participate in making crafts that they can then take home. Colonial Crafts is free with admission.
Knit-a-Thon Patterns
For those who were unable to attend Mission San Luis' 1st Annual Knit-a-Thon, or did attend and would copies of the hat patterns that were used, please click on the links below. If you have questions concerning the patterns or Mission San Luis' Living History costume department, please feel free to contact us at (850) 245-6406.
If you have any questions, please call 850.245.6406 for more information.