Virtual Blessing of Animals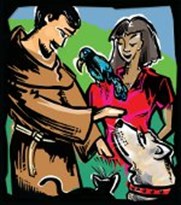 (New Date for Virtual Event in 2020)
Saturday, November 7, 2020
Posted on Facebook from 10 am to 4 pm
FREE!
The Blessing of Animals originated in the 13th century in remembrance of St. Francis of Assisi, the patron saint of animals and the environment, who believed that all animals should be treated with dignity and respect. As the site of a Franciscan Mission in the 17th-century Mission San Luis honors the tradition of blessing animals annually.
This year join us ONLINE to celebrate animals past and present! A variety of special videos with animal themes will be posted on event day. Topics will include history, games, and a craft for the kids. We also will present videos from our local and regional friends at animal educational organizations, shelters, and rescue groups.
And Blessing of Animals is not complete without...blessings! So this year we will post a video of a VIRTUAL PET BLESSING by a Catholic deacon at noon. If you are interested in having your pet digitally blessed and included in the public video, please email your pet's NAME, PHOTO, and HOMETOWN to missionsanluis@dos.myflorida.com BY OCTOBER 25, 2020! This year we want to remember dearly departed pets as well, so let us know if they are in that category. (Multiple pet submissions are allowed. Encourage your family/friends from outside Tallahassee to submit too! )
Stay tuned for more details! 
Visit our Virtual Programs & Resources page