Artifact
Glass Beads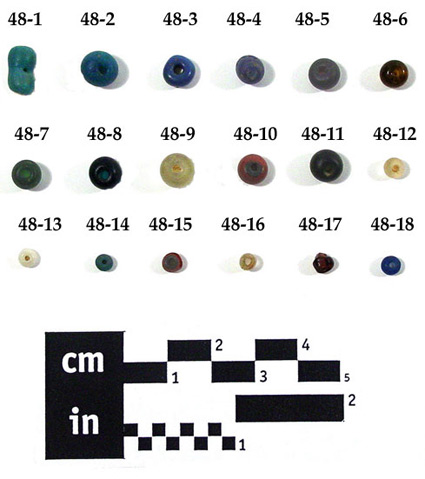 Artifacts
48-1
3022
FS#: Double Ichtucknee Plain bead. 1 double ICHTUCKNEE PLAIN bead ? drawn, barrel-shaped opaque turquoise blue glass necklace bead. Note: Some double beads may have been used as spacers on rosaries
 
48-2
3932
FS#: Ichtucknee Plain bead. 1 ICHTUCKNEE PLAIN bead ? drawn, opaque turquoise blue spheroid glass necklace
 
48-3
4156
FS#: Purplish blue glass bead. 1 opaque purplish blue torus-shaped bead ? drawn, torus-shaped glass necklace bead
 
48-4
7237
FS#: Navy blue glass bead. 1 transparent navy blue, barrel-shaped bead ? drawn, barrel- shaped transparent navy blue necklace bead
 
48-5
3932
FS#: Purple glass bead. 1 translucent dark purple bead ? drawn, oblate glass necklace bead
 
48-6
5415
FS#: Amber-colored glass bead. 1 transparent amber-colored glass bead ? drawn, spheroid transparent amber-colored glass necklace bead
 
48-7
1831
FS#: Green glass bead. 1 transparent medium green bead ? drawn, spheroid transparent medium green necklace bead
 
48-8
7230
FS#: Ultramarine glass bead. 1 transparent ultramarine glass bead ? drawn, spheroid transparent ultramarine necklace bead
 
48-9
7866
FS#: Colorless glass bead. 1 colorless glass bead ? drawn, spheroid transparent colorless glass necklace bead
 
48-10
4217
FS#: Cornaline d?Aleppo bead. 1 CORNALINE d?ALEPPO bead ? drawn spheroid glass necklace bead, opaque brick red over transparent medium green core
 
48-11
1563
FS#: Green glass bead. 1 translucent dark green bead ? drawn, oblate translucent dark green necklace
 
48-12
7216
FS#: Colorless glass pony bead. 1 colorless pony bead ? drawn, spheroid colorless glass ?pony? size bead
 
48-13
6244
FS#: Opaque white glass pony bead. 1 opaque white pony bead ? drawn, torus-shaped opaque white glass ?pony? bead. Appears to have been made in two layers; also has possible colorless veneer on surface
 
48-14
5087
FS#: Ichtucknee Plain pony bead. 1 ICHTUCKNEE PLAIN pony bead ? drawn, torus-shaped opaque turquoise blue glass ?pony? size bead
 
48-15
5143
FS#: Cornaline d?Aleppo pony bead. 1 CORNALINE d?ALEPPO pony bead ? drawn, torus-shaped opaque brick red over transparent pale green core ?pony? size bead; Thin veneer of colorless glass on exterior
 
48-16
6107
FS#: Colorless glass bead. 1 colorless segmented bead ? drawn, transparent colorless glass segmented bead made from a blown glass tube
 
48-17
4156
FS#: Faceted purple glass bead. 1 transparent purple bead with six marvered facets ? wound glass necklace bead with three marvered facets on each end
 
48-18
7242
FS#: Navy blue glass pony bead. 1 transparent blue pony bead ? drawn, oblate transparent navy blue glass ?pony? size bead
 
Notes:
Beads and Pendants
Glass beads and pendants were an important part of gift giving, trade, and personal adornment in the Spanish colonies. We find numerous types of beads in sacred and secular contexts, and in both Spanish and Apalachee areas of San Luis.
Glass beads and pendants (Drawers 45, 46, 48) are typically described by manufacturing technique, shape, color, size, decoration, and, when appropriate, type name. Because some of the terms are jargon or ambiguous, the following definitions for terms used in the bead descriptions are provided. For additional information, please consult the suggested reading list for beads.
Type name
Type names are used when appropriate. Terms written in UPPERCASE letters are the commonly accepted type names of the bead or pendant style. Ichtucknee was misspelled decades ago (it should be Ichetucknee), but the misspelled version has been kept for consistency.
Color
There are several standardized color charts used by archaeologists to assign color to beads. The best (and most expensive) are Munsell color charts. Zipatone and ISCC-NBS (Inter-Society Color Council of the National Bureau of Standards) produced less expensive color charts that were used by archaeologists for years, including San Luis staff. Unfortunately, these alternative color charts are no longer available, but most of these alternate color designations can be correlated with Munsell colors.
Diaphaneity
This refers to the degree of transparency of beads.
Opaque: When light is shined behind a bead, you cannot see through it and the perforation is not visible.
Translucent: When light is shined behind a bead (from the side), you can see through it somewhat, but can't clearly see the perforation.
Transparent: When light is shined behind a bead, the perforation can be clearly discerned.
Shape
Oblate: Refers to a shape that is best described as a slightly "squashed" sphere.
Spheroid: Nearly spherical.
Torus: Refers to ring or donut-shaped beads.
Size
Seed beads: Small beads, less than 4 mm in diameter, which were typically used
for embroidery, but also on some jewelry.
Pony beads: Refers to beads of an intermediate size, usually 4 and 5 mm in diameter.
Necklace beads: Used here to refer to beads larger than 5 mm in diameter.