Artifact
More Mexican Majolica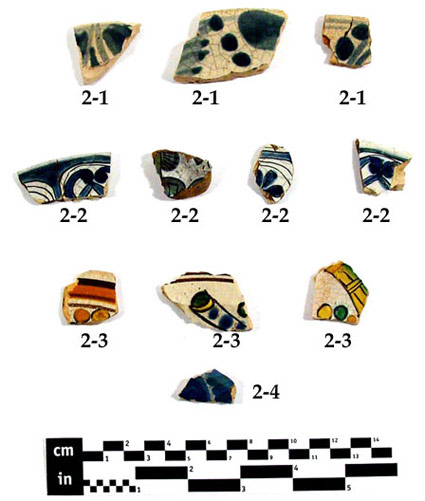 Artifacts
2-1
4995, 4329, 75-56-18
FS#: San Luis Blue on White
 
2-2
1820, 4951(2), 4983
FS#: Castillo Polychrome
 
2-3
3967, 4329, 4097
FS#: Abó Polychrome
 
2-4
4097
FS#: San Agustín Blue on White
 
Notes:
Imported Ceramics
Much of the imported pottery recovered at Mission San Luis is Mexican majolica manufactured in Puebla and Mexico City. The production of tin-enameled wares in the New World was introduced by Spanish potters, who also instituted related social institutions such as pottery guilds and cofradías. New World majolicas quickly took on a distinct appearance from their Old World counterparts, owing to the differences in raw materials and cultural influences. We have provided several drawers of both Mexican majolicas (Drawers 1 & 2) and Spanish majolicas (Drawers 4, 6 & 7) so you can compare the differences. (The Mexican majolicas were recovered from San Luis, but the Spanish majolicas were recovered from colonial era sites in Spain.) From the interior of Mexico, the pottery was transported overland to Vera Cruz, and then shipped to Havana.
Spanish olive jar fragments are also common at Mission San Luis. The large amphora-shaped vessels were manufactured primarily in Spain and were used to transport a variety of products including olives and olive oil, hence the name "olive jar." These vessels come in both glazed and unglazed versions, and were made in a range of shapes during the mission period (Drawer 3). It was common for broken olive jars to be recycled as roof vaulting, floor pavers, and for other practical applications. Olive jars made their way to the New World as part of the bi-annual shipments from Spain that usually sailed in March and September. The fleet divided in the Caribbean and visited trade fairs throughout the New World where they exchanged European manufactured goods for local products, as well as Oriental commodities such as porcelain (Drawer 5) that arrived in Acapulco via the Manila Galleon. The Spanish ships then rendezvoused at Havana for their homeward voyage. As a result, Havana became a major commercial entrepôt that was a short sail away from Apalachee Province.
San Luis residents included several ship owners who regularly exported Apalachee agricultural products to Havana in exchange for items from around the world. Because pottery is durable, it is among the most visible and enduring evidence of this vigorous international trade network.
Imported pottery at Mission San Luis is identified using published type descriptions (based on ceramic paste, glaze, color and decoration), and our on-site type collections. Most of these types are summarized in Kathleen Deagan's Artifacts of the Spanish Colonies of Florida and the Caribbean, 1500-1800.