Recent Discoveries - Drawer 2
Artifact
Recent Discoveries - Drawer 2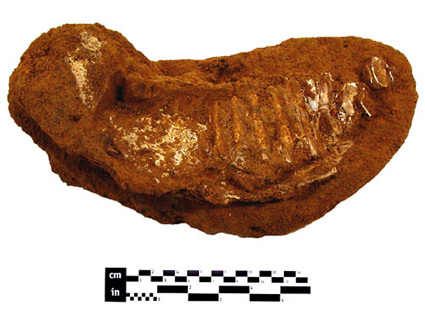 Common Name: Cattle
Scientific Name: Bos Taurus
This cow mandible was recently found in the moat at Mission San Luis.
Cattle ranches in Apalachee Province supplied the needs of local residents and provided exports to St. Augustine and the Caribbean. Cattle were used as beasts of burden, and also were sources of dairy products, meat, hides, fat for tallow, and hooves for gelatin and glue. Since many cattle at San Luis were slaughtered at a young age, it is believed that they were primarily raised for food.
Notes:
Recent Discoveries
We have two drawers designated "Recent Discoveries" at Mission San Luis. Although most of the exhibit cases and drawers contain permanent collections, these drawers were developed to accommodate continual updates. Whether the archaeologists are in the field or in the lab, they are constantly identifying interesting new artifacts. This gives us the opportunity to share these new finds with visitors to Mission San Luis, and to our website.