Unforgettable Experiences in an Extraordinary Place
Facilities Rental at Mission San Luis
Make Your Special Event Historic with Us
When it comes to celebrating the milestones in life, or keeping meeting attendees inspired, often ordinary spaces just won't do. Mission San Luis offers you an elegant and unique setting for an unforgettable personal or professional event. Whatever the occasion, we look forward to helping you realize your vision.
See our elite selection of preferred caterers in the Mission San Luis Rental Rate Schedule. Contact us today at 850.245.6406 or rentals@missionsanluis.org for more information or to schedule your site visit. We know you will fall in love with what we have to offer!
Mission San Luis is Tallahassee's premier wedding venue. See our Pinterest boards or Flickr gallery for photos that show how beautiful your special day can be with us! Also see videos of Aida and Dustins', Amanda and Tom's and Christy and Kim's weddings at San Luis.
Mission Room and Open Courtyard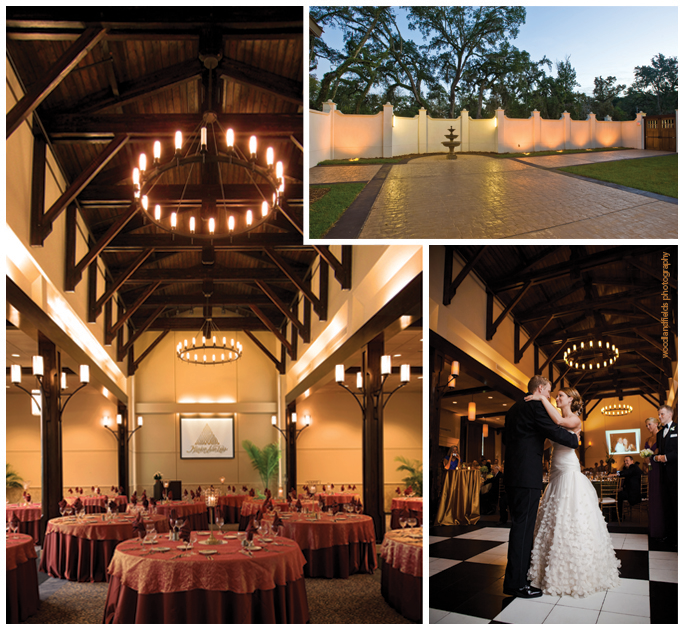 The elegant Mission Room banquet hall is 4,000 enclosed square feet, with a 3,000 square foot outdoor courtyard. It can accommodate 250 people seated at tables or 500 standing. The Mission Room also has a 600 square foot indoor entry hall, a warming kitchen, and private rest rooms. Internet is available throughout the Visitor/Event Center building.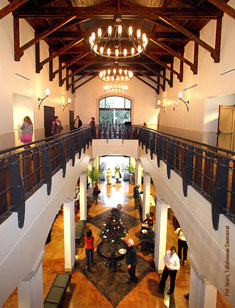 Visitor Center Lobby
The handsome main lobby, with soaring, beamed ceilings and interior balcony, is 2,800 square feet and can be used separately or in combination with the other spaces. The view of the landscaped historic site is on the north side with the El Mercado gift shop, Calynne and Lou Hill Exhibit Gallery, and SunTrust Theatre adjoining. Corridors lead to the rest rooms and banquet hall. Two wall-monitors are available for custom graphics and/or text.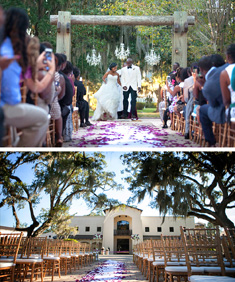 Portal Paseo
The area behind the Visitor Center that leads to our "Portal to the 17th Century" is a perfect spot for outdoor wedding ceremonies. Nestled under the grand oaks, you can take your wedding vows at this wonderful entrance to the historic site.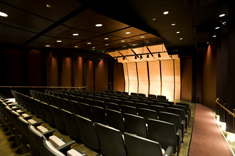 The SunTrust Theatre
The SunTrust Theatre is a 1,200 square foot space with 125 comfortable, upholstered seats and several spaces for wheelchairs. It has a fully-equipped projection room and screen available for rental.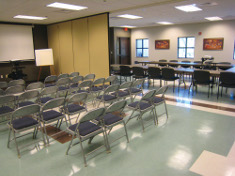 The Jay Kislak Classrooms
The Jay Kislak Classrooms are two 644 square foot spaces that can be used separately, or combined to make one large room. Both rooms have video screens and sinks. AV equipment is available for rental. The seating capacity for each side is 30 people.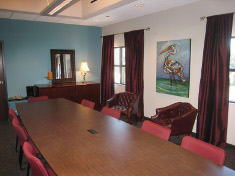 Boardroom
A space ideal for small meetings or bridal dressing, the Boardroom at Mission San Luis is 425 square feet and has a large table with seating for up to 12 people. There is a conference phone available. A large mirror and sideboard can double as a vanity.

---
A portion of the proceeds from your fees will be used as matching funds for our endowment (National Endowment for the Humanities Challenge Grant #CZ-50079). If you'd like to know more about our endowment campaign, please contact us. Thank you!