Unforgettable Experiences in an Extraordinary Place
Special Events
Events at Mission San Luis
Except as indicated, admission to all events has the same fee as regular admission.
(Adults: $5; Seniors 65+: $3; Children 6-17: $2; Children under 6, Members & Active Duty Military: FREE.)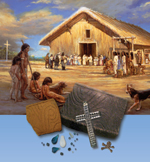 Archaeological Site Tours
Every First Wednesday at 11 am

Join a Mission San Luis archaeologist for a tour of Tallahassee's only National Historic Landmark from an archaeological perspective. Learn how the site was excavated and what was discovered about the Apalachee and Spanish residents from the 17th century.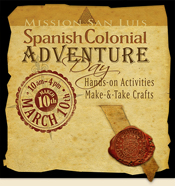 Spanish Colonial Adventure Day
Re-enact colonial Spanish Florida's past with your family! Help with "preparations" for the 1686 exploratory expedition to Pensacola Bay by collecting trade beads at the Council House, drawing a map of Western Florida at the Fort, grinding corn for travel supplies, and more. This fun adventure will let visitors experience Mission San Luis' important role in La Florida history with lots of hands-on activities, including make-&- take crafts and archery for all!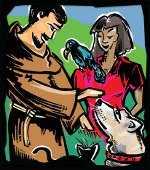 Blessing of Animals
First Saturday of October
(October 6, 2018: 10 am-3 pm) FREE
2017 Photos
Furry, feathered, or other animal friends are invited to be blessed at our annual event. The Blessing of Animals originated in the 13th century in remembrance of St. Francis of Assisi, the patron saint of animals and the environment, who believed that all animals should be treated with dignity and respect. Mission San Luis is a pet-friendly site, so bring your companions and enjoy the beautiful park setting and living history programs year-round.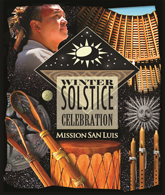 Winter Solstice Celebration:

Native American Festival
Join us for two days of Southeastern Native American dancing, music, craft vendors, cultural demonstrations, and storytelling. This year we have nationally known acts coming to town! Also enjoy living history reenactments, celestial viewing with scopes, drum circles, archery, crafts for kids, and more! Fun for all ages!