Artifact
Hardware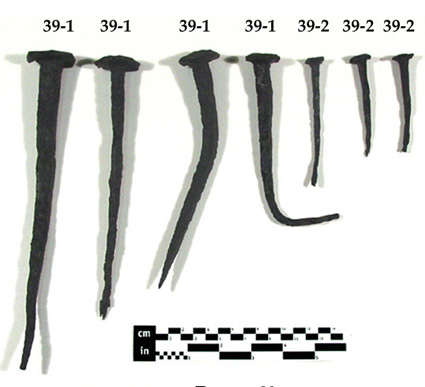 Artifacts
39-1
74-38-22,55; 74-38-90 (2); 74-38-154
FS#: Wrought iron spikes
 
39-2
74-38-115; 74-38-116; 74-38-127
FS#: Wrought iron nails
 
Notes:
Hardware
There is no documentary or archaeological evidence of a blacksmith operation at Mission San Luis, but there was probably periodic iron working at the site for basic maintenance and new construction. The closest documented blacksmith was the Cupaica mission, just north of present day Interstate 10. Although some local metalworking was always necessary, most Spanish hardware and other manufactured metal goods were produced and imported from metallurgical centers rather than shipping ore.
At Mission San Luis, the vast majority of our hand wrought iron is in the form of nails and spikes (Drawers 39 & 41). Hardware designations are based on design and overall size:
Spikes > 10 cm
Nails < 10cm - > 2 cm
Tacks < 2 cm
Other metal items include locks, hinges, latches, axes, chisels, saw blades, and bells (Drawer 40).